So I'm not African Hebrew Yisraelite's explain to me a King Melek favored By Yahuah The word of יהוה that came to Hoshĕa son of Be'ĕri, in the days of Uzziyah, Yotham, Aḥaz, and Ḥizqiyah, sovereigns of Yehuḏah, and in the days of Yaroḇ'am son of Yo'ash, sovereign of Yisra'ĕl. (Hosea 1:1 [TS1998]) has a ancient Nile valley seal that originates in the ancient empires of Kush this Seal of King of Yahudah Ḥizqiyah 2nd temple Era...please learn your roots and it ain't in kemet or moorish science but it's not in religion or distorted replacement theology.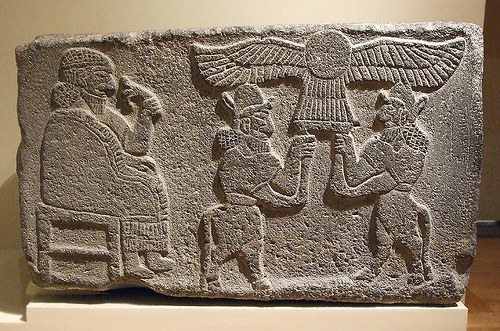 From roughly 2000 BC, the symbol spread to the Levant and to Mesopotamia. It appears in reliefs with Assyrian rulers and in Hieroglyphic Anatolian as a symbol for royalty, transcribed into Latin as SOL SUUS (literally, "his own self, the Sun", i.e., "His Majesty").
From ca. the 8th century BC, the winged solar disk appears on Hebrew seals connected to the royal house of the Kingdom of Judah. Many of these are seals and jar handles from Hezekiah's reign, together with the inscription l'melekh ("belonging to the king").[1] Typically, Hezekiah's royal seals feature two downward-pointing wings and six rays emanating from the central sun disk, and some are flanked on either side with the Egyptian ankh ("key of life") symbol.[1] Prior to this, there are examples from the seals of servants of king Ahaz and of king Uzziah.[2]
Compare also Malachi 4:2, referring to a winged "Sun of righteousness",
But unto you that fear my name shall the Sun of righteousness arise with healing in his wings... (KJV)
The symbol evolved into the Faravahar (the "visual aspect of Ahura Mazda") in Zoroastrian Persia.
Categories: None